Men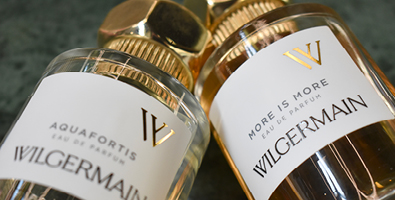 Discover all special men's fragrance creations from different brands. At MYSC you will find not only classics such as Guerlain, Yves Saint Laurent, Cartier, Mugler, Viktor & Rolf, but also niche brands such as Amouage, Escentric Molecules, Parfums de Marly, Montale & Mancera. Not only do you shop for your favorite scent, but you can also come to us for deodorant, shower gel and even aftershave with your favorite scent. Have fun shopping and don't hesitate to contact us if you have any questions!
Parfums voor hem
Ieder heeft zo zijn eigen geur. Binnen een week ben je misschien niet alleen de zakelijke man, maar ook de romantische of de sportieve man. Voor elke stemming vind je bij MYSC een speciale geurcreatie.
In ons assortiment vind je uitsluitend hoogwaardige herenparfums. Deze geuren kenmerken zich door de rijke en luxe samenstelling in zowel de ingrediënten als de flacons.
Verschil Eau de toilette, Eau de parfum en Eau de cologne
Een eau de parfum heeft een hogere concentratie aan ingrediënten. Dit zorgt voor een intensere geur die je langer blijft ruiken (soms tot wel 8 uur!). Een eau de cologne heeft een lagere concentratie aan ingrediënten, wat resulteert in een subtielere geur die maximaal 2 uur actief blijft.
Een eau de toilette zit precies tussen deze twee in. De geur blijft ongeveer 3 uur actief. Een eau de cologne of eau de toilette voor mannen draag je bijvoorbeeld overdag naar je werk en een eau de parfum draag je bijvoorbeeld als je jezelf nét dat beetje extra wil geven.
Unieke geurbelevingen met heren parfums
Een eau de parfum voor heren ruikt vaak anders dan een parfum voor dames. Veel nichemerken bieden echter ook unisex geuren aan. Deze geuren zijn niet per definitie op mannen of vrouwen gericht. Ze richten zich eerder op een persoonlijkheid of stemming.
Binnen de mannengeuren onderscheiden we vijf geurfamilies:
Oriëntaals
Houtachtig
Kruidig
Leerachtig
Citrus
Wanneer je een (nieuw) parfum uitzoekt, is het handig om te weten in welke geurfamilie je een geur zoekt. Geuren uit de citrusfamilie ruiken friszoet en zijn bijvoorbeeld geschikt voor de actieve of sportieve man.
Oriëntaalse geuren daarentegen zijn wat zwaarder vanwege het intense aroma. Hierdoor ruik je de geur ook langer op je huid. Oriëntaalse geuren passen bijvoorbeeld bij de zakelijke of romantische man. Uiteraard kun je je parfum ook aanpassen aan je stemming of activiteit.
Wist je dat er zelfs een parfum bestaat dat je niet kunt ruiken? De geuren van Escentric Molecule smelten samen met jouw lichaamsgeur, waardoor er een unieke en persoonlijke geurcreatie ontstaat.
Top 10 herengeuren van MYSC
Heren geuren zijn er in verschillende geurfamilies. Zeker als je op zoek bent naar een nieuwe parfum, raden we aan om eens langs te komen in onze beauty hotspots. Onze beauty-experts helpen je graag bij het vinden van jouw go-to geurtje.
We hebben de top 10 mooiste geuren voor heren alvast op een rijtje gezet voor je:
Montale Arabians Tonka
Xerjoff Erba Pura
Xerjoff Naxos
Bvlgari Le Gemme Tygar
Kilian Angels Share
Beso Beach Beso Negro
Escentric Molecules Molecule 01
Escentric Molecules Escentric 02
Jusbox Cheeky Smile
Montale Intense Cafe
Herengeuren van de mooiste merken
Kies je geur zorgvuldig. In onze beauty hotspots helpen de beauty-experts je graag bij het kiezen van jouw nieuwe favoriete geur. Kies je voor een tijdloze heren geur van Bvlgari of past een echt nicheparfum zoals Montale of Xerjoff beter bij jou?
Deze mooie merken hebben allemaal één ding gemeen en dat is het gebruik van hoogwaardige ingrediënten. Deze ingrediënten zijn kenmerkend voor de luxe parfums voor heren.
Wist je dat we ook verschillende sets aanbieden met deodorant, douchegel en aftershave van je favoriete geur?